There is a certain simplicity that upsets high expectations and dethrones ideas of what could have been to a humble space of what is. This was the nature of Jacquemus's debut menswear collection – simple, sans chichi, and accessible men's clothing, all showcased off the backdrop of the majestic Calanque de Sormiou on the secluded coastline of Nothern Marseille.
The anticipation for the Jacquemus menswear unveiling was maximal. After announcing his intention to debut his men's offering after his AW'18 women's show in February, then revealing the collection's name, "Le Gadjo", with a shot of French rugby player Yoann Meistri in a pair of simple white pants, Simon Porte Jacquemus ignited a hype that peaked yesterday when the attention of the global fashion set angled to Marseille.
Thirty-three looks paraded down the picturesque beach painting colour on the canvas of who the Jacquemus man was: the younger brother of the Jacquemus woman. Modelled by a diverse casting of boys, Simon offered a melange of both mundane and moving menswear. "Le Gadjo", an expression meaning a man who belongs to no community, was in full form as the clothing was very much that: fashion that could be donned by the simple and the extravagant based on your styling fancies. It was a seemingly intended pendulum between the fantastic and fairly basic, eliciting mixed responses from the onlooking crowd.
Praise and disappointment had equal footing on social media. Two different communities had two different sets of expectations. Those yearning for the female version of "La Bomba" and "Le Souk" (the brand's last two women's collection) were disappointed and those hoping for the opposite were thrilled. Styled differently the collection would have had a greater impact, perhaps meeting both sets of needs. Irrespective, each audience could identify pieces that served their style and wardrobe demand, making the collection not only on-message but strong in commercial appeal.
The knitted polos and sweaters were sumptuous while the three-quarter cargo pants underwhelming. Accessories (hats, bags, belts and shoes) were amazing while the tailoring pieces left one wanting. If one thing is certain, the branded leather shoulder bags worn by almost every model is set to be a hit. Offering a somewhat non-partisan collection was mischievous and perhaps smart, a risk which will reveal it's reward in sales. Here's to a new adventure, Simon!
See all the runway looks from Jacquemus's Spring/Summer 2019 men's fashion show:
Jacquemus SS'19 – Show Looks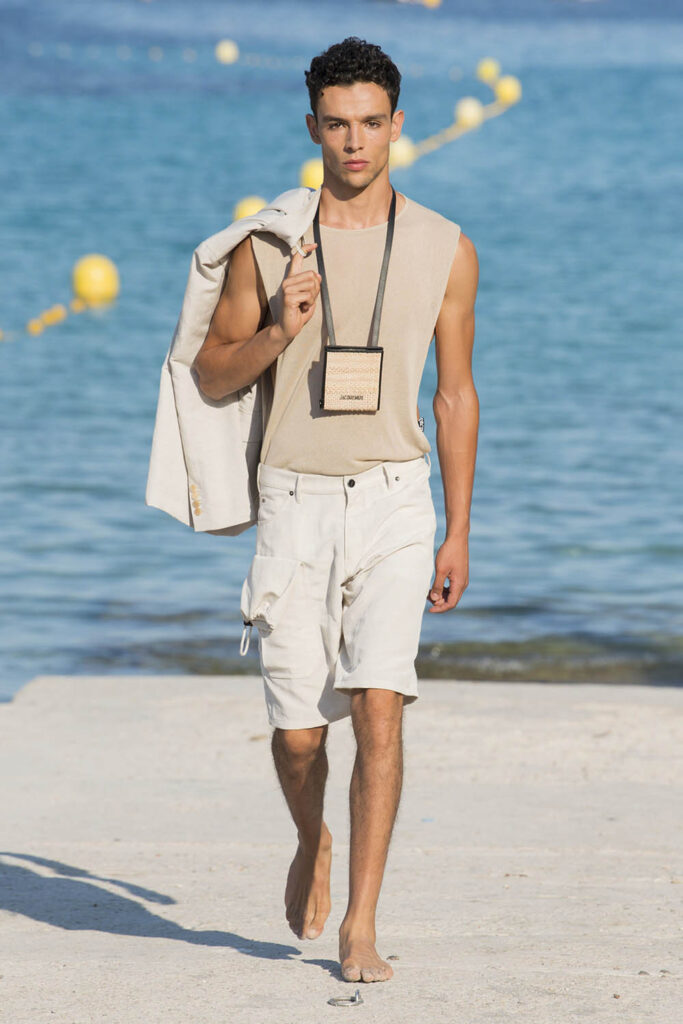 PHOTOS: JACQUEMUS